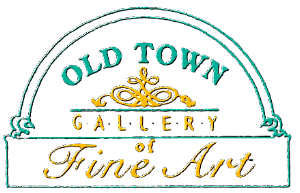 Old Town Gallery of Fine Art is a non-profit, unincorporated association of local artists. OTGFA was established in September of 1995 and the doors opened for the first time on October 4, 1995.
Placer County has an enormous amount of very talented, established artists. When we moved here from Capitola in 1994 we realized that there were few venues for such artists to offer their work to the public. We have been working to correct that problem ever since.
We believe Old Town Gallery of Fine Art is the first gallery of its kind in Auburn. It has grown to maximum capacity of 22 artists and has a long waiting list of interested artists. Our excellent artists offer a wide range of original, one-of-a-kind works of art, including: hand weaving, drawings, oil paintings, woodworking, clay sculpture, original designer jewelry, pastel paintings, watercolors, wildlife paintings, raku pottery and much more.
Buying directly from the artists can save big money compared to regular galleries who more than double the price of artwork to the public. Our members are a mix of emerging and well established artists who staff the gallery and are readily available to answer any questions. The quality of all of all our artist's work is outstanding.
Some of the benefits the members of OTGFA enjoy are having a page on the World Wide Web through the gallery's Website. We also display our artwork in local businesses for added exposure to the public and to help beautify our community. Recognizing the importance of having good quality photographs and slides for artist's portfolios, we have an expert photographer available to take images of artist's work.
---
Raku Demo - Sunday, August 25, from 12 to 5 pm
Conducted by well known clay potter, Susan Noble
---
Auburn Fine Art festival - September 28 & 29, from 10am to 5pm
In the Sreets of Old Town Auburn California
---