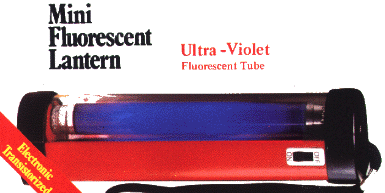 SCIENTIFIC TEST OF ANTIQUES & COLLECTABLES
PUT SCIENCE TO WORK FOR YOU!
Can the average collector and dealer of antiques and collectibles afford scientific testing to catch repairs and reproductions? The answer is yes. A black light is one of the very few scientific instruments the average person can both afford and easily use.
---



Detect fakes & reproductions


Most old originals are made of different ingredients than modern reproductions and fluoresce a different color under black light. here are some examples:

Cut Glass: Authentic American Brilliant period cut glass fluoresces yellow; reproductions have no reaction or show a blue-white.

Cast Iron: Most new paint on most new cast iron fluoresces; old paint on old cast iron rarely fluoresces. You can also detect newly painted repairs as well.

Paper Products: Most paper products--like post cards, books, signs, photos papers, etc.--made before the late 1930s-WW2 era rarely fluoresces. Paper products made since 1950, however generally fluoresces brightly due to large amounts of chemical bleaches and dyes.

Pattern Glass: Nearly all American colorless pressed glass made before ca. 1925-30 fluoresces yellow; reproductions generally do not have any fluorescence.

Textiles: Thread and Cloth: Synthetic fibers--rayon, polyester, etc. made since WW2 all fluoresce. This allows you to detect new military uniforms, new quilts, new doll clothes, etc. Even if old fabric is used to repair an old quilt, the new thread will fluoresces.

Art Glass: Lalique before 1945 fluoresces yellow; after 1945, it does not. Genuine old Burmese fluoresces bright yellow green, new reproductions do not.

---
Detect damage and repairs
Repair materials generally show up differently than the old original surface. If an entire piece glows red, for example, and just a small spot glows blue, that means that material in the blue spot is a filled in glass repair, glue on jewelry, new patina on a bronze, a signature on a painting, etc. Any differences in reactions are your clue to a possible repair or alteration.
---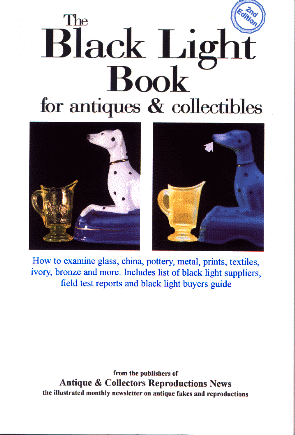 6" Pocket Size Black Light and The Black Light Book softbound 84 pages 76 photographs for ONLY $38.95 + $3.00 for shiping and handling
---

YOU CAN ORDER BY MAIL OR CHARGE BY PHONE
-------------- 30 day warranty on manufacture defects
The Antique & Collectible Exchange
Scientific Test of Antiques & Collectibles